Web links | Sample work | Artist Statement | Artist Information

WEB LINKS:
www.jackniven.com
Click image for enlarged version and artwork details.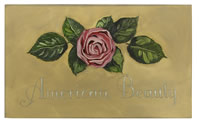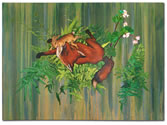 [ back to top ]
For several years now, since moving to New Orleans in 2005, I have been painting pictures that feature animal characters as the principal protagonist, hero and antihero all rolled into one. For many years before that, I made pictures that featured people. Animals are less complicated. Although, in some ways, they are potentially more freighted by projected human attributes and desires. My use of animal depictions of late has more to do with reflecting human dilemmas, frailties and victories; aiming for a reading that is at once universal in the manner of a deft logo, for example, and emotive, after the fashion of a catchy tune or the lingering sense that one gets from a memorable line of prose.
The piece I made for American Beauty, South is called Universal Mule. Admittedly, a broad reading of southern literature and folklore is relatively new and ongoing for me, my previous knowledge of its scope limited to the greats such as William Faulkner, Flannery O'Connor or Cormac McCarthy. Within this context, then, one of the things I have noticed is the preponderance of mules in southern landscape, folklore, art and history. This has, for me in this instance, been distilled to a notion of things 'mulish'. In the same way that mules once served as the engine of a rural economy, and still do in a small way, their character as a quotidian symbol is a potent one to invoke on many levels. Hence, the Universal Mule I have called upon here is the everyman among us. I wanted this mule to stand as witness to the highway from a cosmic trajectory.

[ back to top ]
Education
1982-83, Banff Centre School of Fine Arts, Banff, Alberta Canada. Artist in Residence
1980-82, Alberta College of Art, Calgary, Alberta, Canada. Honours Diploma Painting
1977-79, McMaster University, Hamilton, Ontario, Canada. Fine Art & Art History
1975-77, Albright Knox Art Gallery, Buffalo, New York. Drawing classes
Solo Exhibitions
Nov 2007, Shift, Painting Installation at FutureProof, New Orleans
Jun 2005, Recent Works, Blackfriars House, London Ontario.
Feb 2004, Breakdown, The Other Gallery, Banff, Alberta
Sep 2002, Jack Lake, Loop Gallery, Toronto, Ontario
Jul 2001, Recent water colours, Michael Gibson Gallery, London, Ontario
May 2001, MOTEL, Loop Gallery, Toronto, Ontario
Oct 2000, Trillium Nodes, Loop Gallery, Toronto, Ontario
Oct 1999, Indigo Bunting, Tableau Vivant, Toronto, Ontario
Jan 1998, Tarot Jigs, Museum London, London, Ontario
Mar 1997, Was Ist Ein Mensch?, Forest City Gallery, London, Ontario
Nov 1996, Window, Mercer Union Gallery, Toronto, Ontario
Sep 1995, Birds in My Yard, The Palace at 4 a.m., London, Ontario
Nov 1994, Journeyman, The Palace at 4a.m., London, Ontario
Mar 1993, Scared Stiff, Red Head Gallery, Toronto, Ontario
Mar 1991, Ripe Timbre, Grand Theatre Gallery, London, Ontario
Mar 1990, Lumiere du Jour, Forest City Gallery, London, Ontario
Oct 1988, New Paintings, Aubes 3935 Galerie, Montreal, Quebec
Mar 1988, Blue Meridian, YYZ Artists Outlet, Toronto, Ontario
Oct 1987, The Fool, Aubes 3935 Galerie, Montreal, Quebec
Group Exhibitions
Nov 2008, American Beauty, South, Airline Highway 61, New Orleans
May 2004, Inside Out, Eldon House Museum, London, Ontario
Apr 2003, Gallery Artists, Prime Gallery, Toronto, Ontario
Oct 2001, Toronto Intl. Art Fair, Toronto, Ontario ( w/ Michael Gibson Gallery )
Aug 2001, Group Show, Museum London, London, Ontario
Aug 2001, Canoe MOTEL, for OPEN AIR Public Art, Covent Garden Market, London, ON
Feb 2001, New Acquisitions, Museum London, London, Ontario
Jul 2000, Dust on the Road, w/ Hoopoe Curatorial, Harbourfront Centre, Toronto, Ontario
Jul 2000, Picturesque, window case at Habourfront Centre, Toronto, Ontario
Mar 2000, Member's Only, Loop Gallery, Toronto, Ontario
Sep 1997, Pop Eye, From-a-Pit Collective, Toronto, Ontario
Jun 1996, Limousine, Free parking Gallery, Toronto, Ontario
Feb 1995, Burning Down the House, Forest City Gallery, London, Ontario
Jan 1994, 20 x 20, Forest City Gallery, London, Ontario
Sep 1993, Cup For a Cup, Forest City Gallery, London, Ontario
Mar 1991, Southwest Biennial, Art Gallery of Windsor, Windsor, Ontario
Aug 1988, Walls on Fire, YYZ Artists Outlet, Toronto, Ontario
May 1988, Chicago Intl. Art Expo, Chicago, Illinois ( w/ Aubes 3935 Galerie )
Nov 1987, ICAF '87, Los Angeles, California ( w/ Aubes 3935 Galerie )
Sep 1987, Group Exhibition, Lavalin Art Galerie, Montreal Quebec
Oct 1987, International Art Fair, Paris, France ( w/ Aubes 3935 Galerie )
Jun 1986, Art 17 '86, Basel Switzerland ( w/ Aubes 3935 Galerie )
Jan 1985, Alberta College of Art 1974-84, Alberta College of Art Gallery, Calgary, Alberta
Nov 1984, The Warehouse Show, Vancouver , British Columbia
Nov 1984, Juggernaut Tableau, The Phoenix Gallery, Vancouver, British Columbia
Oct 1983, Sexuality & Seeing, Unit Pitt Gallery, Vancouver , British Columbia
Nov 1982, Real or Vicarious, Walter Phillips Gallery, Banff, Alberta
Oct 1982, The Drawing Show, Off Centre Centre, Calgary, Alberta
Awards & Residencies
2004, New Works Residency, Jan - Feb. The Banff Centre, Banff, Alberta
2000, Ontario Arts Council Creations Grant
1992-2004, Ontario Arts Council Exhibition Assistance Grants
1991, 1992, Canada Council Projects Grant
1986, 1987, Canada Council Arts Grant B
1984, Canada Council Short Term Grant
1981, Honours Award, Alberta College of Art
1982, Louise McKinney Scholarship, Alberta Heritage Trust Fund
1982, Banff Centre School of Fine Arts Scholarship
Boards & Collectives
2000 - 2004, Founding Member Loop Gallery, Toronto, Ontario: an artist run co-operative
1989 - 2000, Board Member, Forest City Gallery, London, Ontario; an artist run public gallery
1986 - 1989, Board Member, YYZ Artists Outlet, Toronto, Ontario; an artist run public gallery
Bibliography
2004

The London Free Press, May 14, Inside Out at Eldon House, Sandra Coulson: review

2001

Scene Magazine, July 12, Tess Parkins: review
The North London Beacon, Oct 26. Cherryhill Library Mural, photo/review
The London Free Press, Oct 17, Jennifer O'Brien, review
LOLA #9, summer issue. Letters to the Editor
London Free Press, May 13, Mural Photo Award

2000

London Free Press, August 1, Photo of mural commission
London Free Press, May 15, Open Air Sculpture Festival, photo
Globe & Mail, March 18, Visual Arts page, Gary Michael-Dolt
London Free Press, February 19, Indigo Bunting, photo
C Magazine, Issue # 65 February, Debbie O'Rourke, article w/photo
The London Free Press, January 8, Special Effects, Sandra Coulson article

1999

National Post, October 28, Dan Glover, review/photo
Niagara Falls Review, September 28, Mural Commission, Sheryl Loucks

1998

Galerie Largeness World of Art, Fall '98. Tarot Project, ed. Louis Jacob
City Life Magazine, October issue, Public Art, photo w/review
The London Free Press, October 2, Art at Covent Garden Market, photo
LOLA #2, summer issue. Birds In My Yard, Jamelie Hassan, review
The London Free Press, March 24. Rogers TV Sets, Sandra Coulson
Tarot Jigs, catalogue, London Regional Art Gallery, Jan '98. essay by Sara Hartland-Rowe

1997

City Life Magazine, Fall '97. Hospital Commission, Mary Hatt

1996

The London Free Press, March, Joe Matayas, review

1994

Maclean's Magazine, September 12, Kinetic Artist, Justin Smallbridge

1993

C Magazine, New Work '93, photo page

1987

Parallelogramme, vol.12 no.3, March. Blue Meridian at YYZ, review

1986

Le Devoir, August 20. Expositions, Gilles Daignault

1985

Last Issue, summer '85. Calgary, Alberta, Cover photo of My Dog is Crying
ISSUE, February '85. Vancouver, BC, Keith Wallace, review of Warehouse Show
The Art Post, February '85. Vancouver: The Warehouse Show, review
The Calgary Herald, January 18. ACA 1974-1984, Nancy Tousley, review

1984

Georgia Straight, November 30. Juggernaut Tableau, Joyce Woods, review
The Vancouver Sun, November 6. The Warehouse Show, Eve Johnson, review
[ back to top ]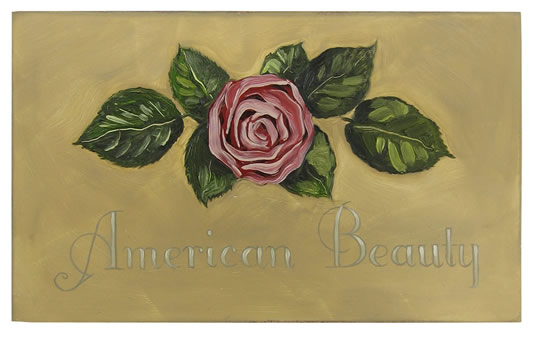 American Beauty
oil on panel, 5.5" x 9.5"
2008

[ back to top ]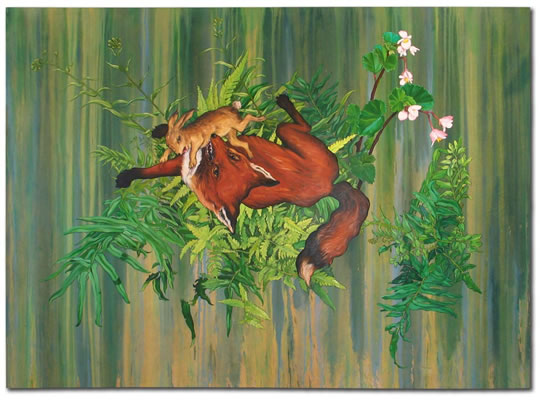 The Volunteer
acrylic & oil on canvas, 67" x 88"
2007

[ back to top ]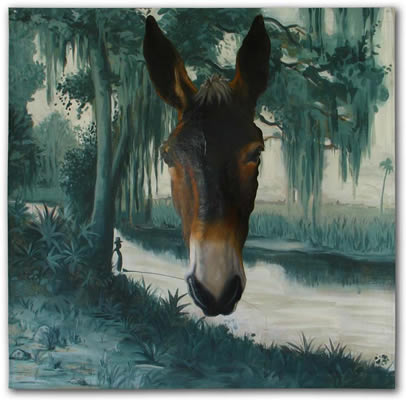 Mule Study
acrylic & oil on canvas, 45" x 45"
2007

[ back to top ]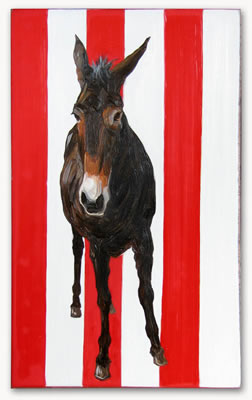 Tilted Mule
oil on panel, 9.5' x 6"
2008

[ back to top ]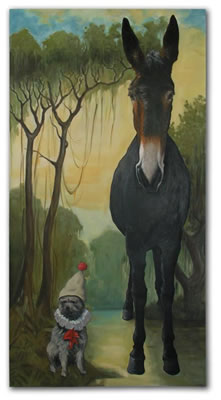 Duo
acrylic & oil on canvas, 84" x 43"
2007

[ back to top | back to artists | next artist ]